If you're tired of memorizing passwords or typing them in each time, then this is the perfect solution. With one touch, your password is entered automatically at the website you're visiting. It even works for Windows login. This product comes at a great price and it's very easy to set up.


Once the drivers were installed, I had to reboot. Once I rebooted, the wizard went through the process so I could enter my fingerprints into the reader. On your screen, simply select the finger you're about to touch the reader with and then touch the reader four times when it tells you to. It can be done for as many fingers as needed.


To allow the reader to input your passwords when visiting a webpage, click the field you're about to type your username into. Touch the reader and then it will prompt you to type the username and password in. Once you've entered the information, touch the reader and it logs you into the website automatically. Next time you visit the website, it isn't even necessary to click the login field, just touch the reader right away and you're logged in.


If both of your hands were removed or incapacitated, or you just don't want to touch the fingerprint reader, the passwords can still be entered the old fashioned way – by typing them in.

I bought this reader for $9.99 after $10 mail-in rebate at Office Depot.


Pros:
- Easy to use
- Inexpensive
- No need to hit enter


Cons:
- Touch doesn't register on the first try sometimes
- Light is very bright
- Light flickers at some angles


I rate this a 9/10.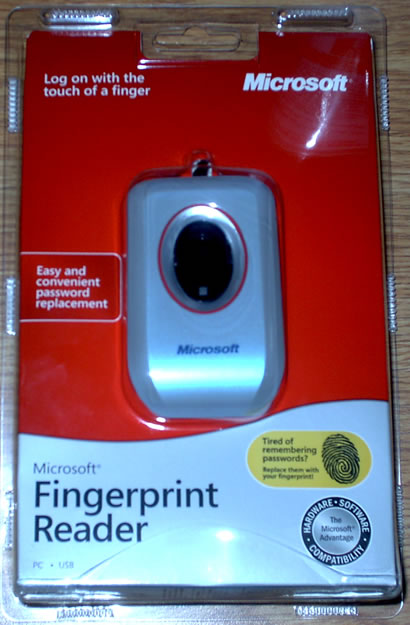 More pictures that I took of this item can be found here.